Origins
Meet Marta

Marta is our head chef. She is from a city in Brazil called Belo Horizonte. Her mum owns a restaurant there. When she was younger, Marta used to work with her mum and began to learn the art of creating desserts.

When she came to England to study in 2006, Marta had a dream of running her own patisserie business. But at that point, she was a researcher in the field of Sports Science at Loughborough University.

As demand for her home baking grew, Marta, now married to her husband Dan, had to make a decision. Should she pursue the career of her dreams full time or continue in her research?

Of course, she chose cake. And with Dan, she founded Bom Bom Patisserie in 2012 operating from their home kitchen in Loughborough.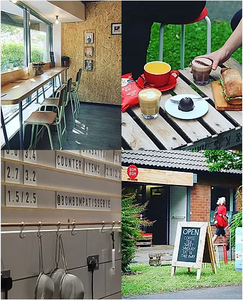 Loughborough Shop

In late 2015, Marta's attentions were drawn to a row of shops close to her home on Derwent Drive, Loughborough. Out of town, with only half the shops open at any one time, there were many who doubted her ambition to open a cafe in this little known part of the town.

Every few days Marta would visit the pharmacist and landlord of the shops to ask what was happening to one particular shop that had been out of use for some time. Again and again, the response would be that it was not yet available.

But eventually, the day arrived. Number 12 Derwent Drive was available, and Marta's persistence had put her top of the waiting list.

And so months of planning, preparation and designing followed. Marta took care of the menu and Dan took care of the venue. Within a few months, the first Bom Bom Patisserie was opened for business. May 2nd 2016.
CURATED COFFEE
So how do you end up with that deliciously smooth and balanced latte or flat white at Bom Bom Patisserie?
We have to admit, we're kind of obsessed with serving great coffee alongside our freshly baked goods. After all, why should you get the best of one, but not the other, especially when great coffee tastes even better alongside delicious cakes.
It took us a while to search out the right supplier for our coffee. We wanted an expert roaster who builds relationships with the farmers at the heart of the industry and could provide unrivalled support to our business as we grow.
Step up Hasbean. Based in Staffordshire, and sourcing green coffee beans from all over the world. They ensure every bag they receive from the farmers is of the highest quality and serve up some amazing flavour profiles.
Hasbean roast all of their coffee beans in-house and deliver to us the following day. Once received at Bom Bom, we allow the beans to rest for about a week. This is because beans go through a process called degassing after roasting, whereby CO2 is released for about 5 days. Use the roasted beans too early, and the resulting coffee suffers.
Once rested, we load the beans into our grinder. We use a Nuovo Simonelli Mythos One grinder, which is regarded as the best in class. Best because it produces a very tight distribution of grind size. If there are too many differently sized coffee grinds going into an espresso shot, again, the coffee suffers.
Every morning, we "dial in" our coffee. The process of dialling in requires a certain weight of ground coffee to yield a certain weight of espresso, within a required timespan. A typical 'recipe' would use 18g of ground beans to produce 36g of espresso in about 30 seconds. If the espresso shot extracts too quickly, a sour taste is produced. Too slowly results in bitterness. The balance is key.
Once we're producing delicious espresso shots, we either serve as espresso or combine with milk for our lattes, flat whites, and cappuccinos. Milk steaming is another art form. We use organic whole milk to first "stretch" and then "texture" the milk. Stretching is the process of introducing air into the milk to form foam, and texturing is required to make those initial bubbles very fine, resulting in a silky smooth mouth feel.​
The final stage is to pour the milk into the espresso. Here we can create "latte art". Getting the espresso balanced and the milk smooth is the most important thing for us, but presenting a perfect pattern is always satisfying. The coffee is ready.
So there it is! From green bean to your lips - the story of how your coffee gets in your cup.
COMMUNITY
When we set out to open a coffee shop in the Holywell estate in Loughborough, we knew we wanted to bring people that lived close together, close together. And with Loughborough University and local schools so close as well, we wanted to create an environment in which no person would feel out of place, and furthermore, to belong. We aim to inspire a culture of love, care and friendliness to the extraordinary diversity of people that walk through our door. And in doing so we hope to build not just a sense of community, but an actual community - otherwise strangers, loving and caring for each other with infectious enthusiasm.
And our community isn't limited by geography. Every day we reach out to the world in the same way. Our social media approach is to show everyone a little piece of joy one photo at a time. And every person that sees a little piece of Bom Bom is just as an important part of our friendly, global community.